Dating a strong black woman might be a new experience for you. Black women can be vocal and domineering but in a great way. Their bold personalities lend themselves to intense sex, but only if you are able to read the tea leaves just a little.
Nothing comes easy. Even though Black Fuckbook is one of the top hookup sites for meeting sexy black women, you still gotta be smart and do some work.
Set Boundaries
You need to decide what you want in a hookup and make sure it's clear. Setting boundaries can help usher in a hot sexual relationship. Without boundaries, confusion enters into the hookup equation and that's not good.
For example, are you only looking for one night stands?
Do you want a consistent hookup? Something more frequent? Would you be let down if a sexy ebony girl banged your brains out and then never spoke to you again?
Do you want her texting your personal phone, or keep things on the Black Fuckbook anonymous chat?
By setting boundaries, you clarify what your position on things are which lessens confusion. Look, some girls aren't going to respect boundaries. But you'll discover who those girls are early in the process. It's your job to be as clear as possible with what your boundaries are and to make sure you understand what hers are.
>>Find Your Sexy Black Girl Hookup
Don't Force Things
If it doesn't seem that your sexy black girl is feeling your vibe over chat, don't force things. Sure, the chase can be sexy for both parties, but not when it becomes an obsessive, over-the-top experience.
If she seems icy to your advances in chat, provide some space. If she's really down, she'll come back.
If They Don't Want What You Want, Get Out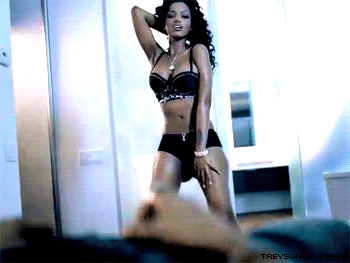 This is semi-related to setting boundaries, but in the end, make sure you understand what she wants out of things. Never assume. Guys often get enamored by a sexy black girl's hot looks and suddenly decide they don't care about their needs. This ultimately backfires.
Because eventually, you will want what you want. And if she doesn't share such sentiments, you'll both end up wasting one anothers' time.
Don't Over-Invest Passion Too Early
Its easy to get hung up on a hot black girl. We've all been there. And there is certainly nothing wrong with letting her know exactly how you feel. But don't go overboard with things. If you get too hot and heavy too fast, she might feel uncomfortable and create space between you and her.
Remember, there are lots of guys courting hot black girls on our dating site. The action is always hot for these girls. Be normal, which includes being expressive sans the discomfort.
Read Her Mood
In dating, taking a mood pulse is essential. If you are newly chatting with a sexy ebony date and she seems cranky, gracefully bow out and come back the next day.
Being able to feel her vibe is a great way to eventually get to feel her up, if you catch my drift. But if you fail to appropriately read her mood, you may wind up on her proverbial dating chopping block.
Of course, reading a mood over chat is no easy task. Just do your best. Keep the conversation light. If you aren't getting responses, or responses are consistently short, take a break.
Don't Get Political
Don't use political ice breakers. Even if she agrees with you, the tone of political conversations is often negative and divisive. You want to get her in the mood for a hookup, not a protest. Sure, eventually you'll possibly chat about your political opinions, but for now, just focus on the hookup energy.
Conclusion
Hooking up with a strong black woman is the hottest thing we know. But if you never get out of the chatting phase, there is no hooking up to be had. Make sure you read her moods and don't become the guy that tries too hard. Be normal, get to know her, set boundaries and understand her boundaries.