The interracial dating vetting process can be stressful if you are new to it. I mean, vetting for a potential date or hookup in any race is tough stuff, no matter how often you've done it.
Everyone wants to avoid time-waste. No one wants to end up in a crumby situation.
The problem is, when your vetting comes off like an interrogation, you might lose the momentum.
So let's avoid the momentum loss and find a way to add to it while we simultaneously get to know our ebony single.
The questions you ask, whether over messenger or on the phone/video conference, can make or break your date's potential. On Black Fuckbook, we understand that this site is geared towards interracial dating (mostly white men seeking black women) and a hookup environment.
You might go out on one traditional date just to get to know one another, but in general, a hookup is assumed to be on the table between both parties. Otherwise, why did either of you sign up for this dating app?
So it's important to ask some icebreaker questions that involve those matters and simultaneously, incite some passionate answers that allow you to gain a glimpse inside their inner-workings.
Here's some good ones.
What did you enjoy the most about where you grew up?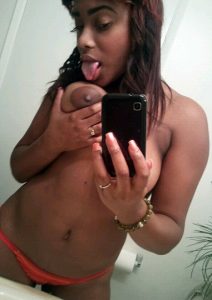 This is a non-sexual question and leaves out the interracial aspect, but it's a good all-around question that tends to give you insight into what type of person they are.
You might learn that she's from a suburb in Ohio. Or that she grew up in more of an urban area. You will learn if she likes sports teams, or if she keeps in contact with old friends, what her family does for a living.
The question seems simple, but it tends to get people talking about way more. And that's the point.
What is your favorite interracial sexual fantasy that's actually come true?
Ah, the meat and potatoes served warm and early.
Discussing interracial dating fantasies is a big driver of healthy conversation when it comes to a potential hookup.
Hookup blindly and you might make all the wrong moves. If she desires a guy who takes things slow with lots of kissing and passion and you whip your hard cock out right away, the moment might fade.
You want to know what drives her sexually. She joined Black Fuckbook for a reason. You need to better understand that reason. And truly, this should be fun for you. It might be erotic enough that you end up jerking off. Nothing wrong with a little fun during the vetting process.
What things about your race do you wish more white guys understood?
This is a direct question about race perspective. If she's on Black Fuckbook, her prior life probably unleashed some white guy annoyances. For example, maybe white guys talked too much about her race, or assumed she liked things she did not.
Let her talk about her past experiences with interracial dating and keep your listening ears turned on. You don't want to end up making the exact same mistakes.
Do you only prefer interracial dating?
Again, a pointed question that helps you understand her level of sexual attraction to white guys.
Some black singles enjoy only white guys, other enjoy a mix of all races.
This question has no wrong answer. Its all about getting her to open up about herself.
Do you prefer a dominant white guy, or do you enjoy being the dominant?
Some ebony single girls have a fantasy that involves dominating a white guy.
You might want to understand if the black single you are chatting with has this fantasy.
But on a deeper level, it gives you an indication into how she might want you to interact and eventually, have sex.
During the interracial dating process, vetting is super important. Understanding what your girl likes and dislikes is critical if you want a successful interracial hookup to play out.
If you don't ask, you'll never know. The best questions are open ended and lead to much more than a single answer. This isn't devised to be a series of checkboxes. Instead, it should inspire natural conversation that gives insight into not only her, but you.